We Have Some Exciting Announcements and Events Coming for August At Clermont Brewing Co!
Including Beer Chats, Brewery Tours, Tuesday Trivia, Lunch and More!
Beer Chat & Brewery Tours
Starting August 6, 2019, join our award-winning Brewmaster Eric for a weekly Beer Chat and Brewery Tour.
Learn all about our brewing process and what makes our beers stand out. The first highlighted brew? Our Kolsch Beer. The Beer Chat runs from 7:00pm to 7:30pm and is free.
Want to try the highlighted beer yourself? The featured Beer of the Week will be $3 all day Tuesday.
Tuesday Night Trivia
Find yourself knowing the answers to random questions? Do friends and family come to you for answers (instead of Google)?
Put that knowledge to the test at our Tuesday Night Trivia! Join us and MC Rob Wintour from 8:00pm – 10:00pm. Need a little incentive? The winner receives a $25 Clermont Brewing Company Gift Card.
Lunch Daily, Tuesday – Sunday
Find yourself falling asleep at your desk? Need a lunchtime pick-me-up? Just can't wait until 4:00pm?
We've got you covered.
Starting August 6th, we will be open for lunch with our full menu starting at 11:30am. That means starters, salads, pizza, sushi and desert — all available at 11:30am, Tuesday – Sunday.
Because, when you're hungry, you're hungry.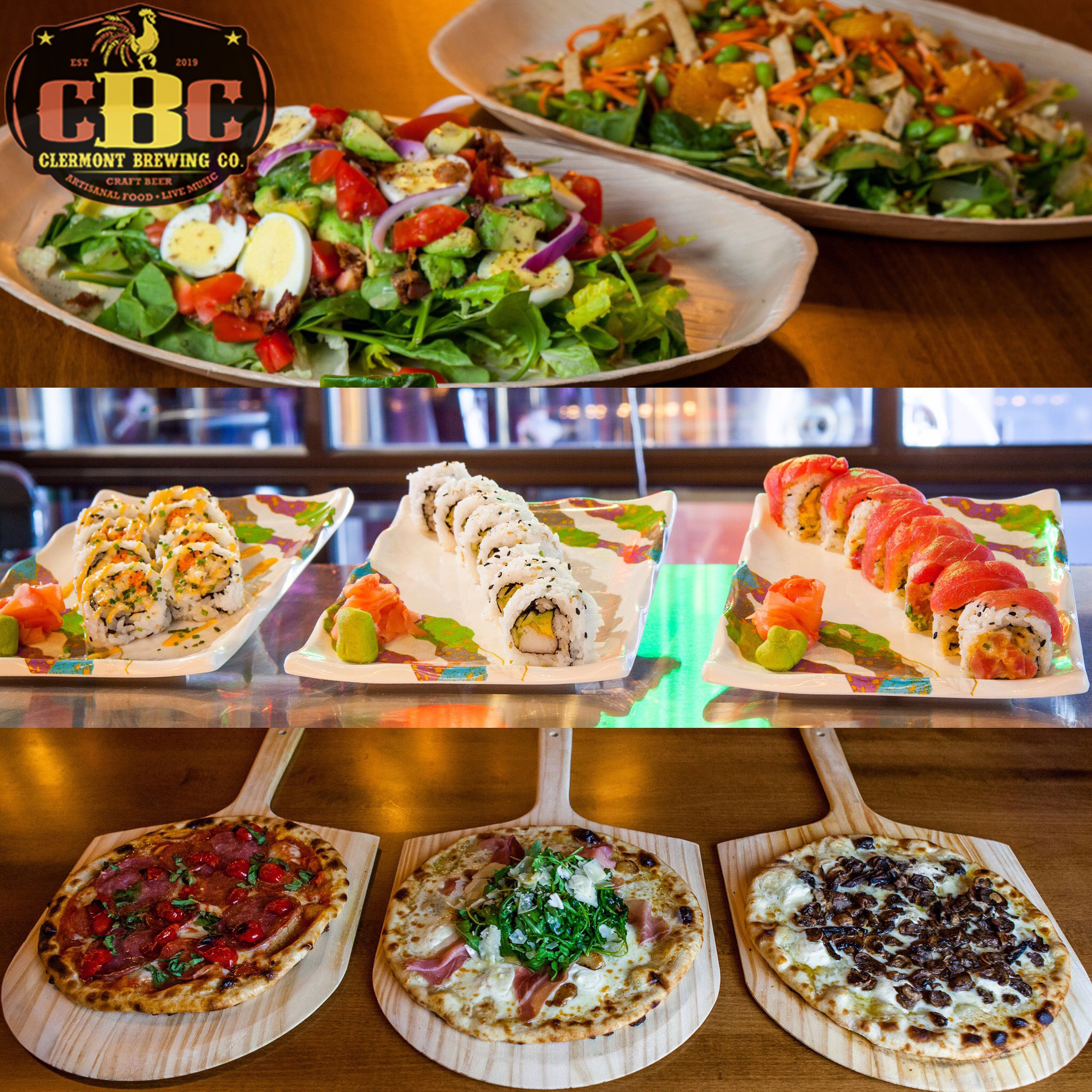 Live Music, Wednesday – Sunday
What goes with great brews and artisanal food? Live music of course!
So, join us Wednesday thru Sunday for live music. We have something for everyone, from groovy bands that will get you on your feet to acoustic music that will help you relax with friends and family.
To see who's playing next, click here.