While we focus on craft beers (we are a brewery after all), we know not everyone loves beer like us! So, to make sure everyone stays hydrated while visiting Clermont Brewing Company we have a few craft cocktails, wine and tap specialties up our sleeves.
From select wines and house made sangria to ciders and unique signature cocktails (be sure to try the Rockin' Rooster) — we truly have something for everyone. So come in, grab a seat, enjoy some live music and have a drink with us!
RUM LATTE – 10
House White Rum, Bailey's, Kahlua, Orange Liqueur and Mint Garnish.
PACK MULE – 12 
Tito's Vodka, St. Germain Elderflower, Ginger Beer, Lime Juice and Mint.
JALISCO MULE – 10 
Tequila, Ginger Beer, Blackberry Liqueur, Cracked Black Pepper, Fresh Blackberry and Lime Garnish.
ROCKIN' ROOSTER – 12 
Tito's Vodka, Lime Juice, Simple Syrup, Raspberries and Mint.
CADILLAC MARGARITA – 12
Casamigos Blano Tequila, Lime Juice, Agave and Combier Orange Curacao.
CLERMONT COLLINS – 12
Monkey 47 Gin, Lemon Juice, Agave and CBC Hefeweizen.
BRAHMA OLD FASHIONED – 12
Smooth Ambler Contradiction Bourbon, Angostura Bitters, Orange Peel and Cherry Garnish.
PLYMOUTH ROCK – 12
Plymouth Gin, Grapefruit Cider, Grapefruit Juice, Combier-Pamplemousse Rose, Lime Juice and Mint Garnish.
GARDEN OF EDEN – 12
Absolut Vodka, St. Germain Elderflower, Lime Juice and Cucumber.
BLOODY GINGER – 10 
House Vodka, Craft Blended Mix, Cracked Pepper, Ginger, Soy Sauce and Wasabi.
BLUEBERRY THUNDER – 10
Smooth Amber Contradiction Bourbon, Lemon Juice and Fresh Blueberries.
STRAWBERRY-BASIL MOJITO – 10
Botran Dark Rum, Lime Juice, Strawberries and Basil.

HOUSE-MADE MARGARITA – 8 
Fresh Lime juice, Agave and Tequila.
HOUSE-MADE SANGRIA – 8 
Spanish Red Wine and Secret Ingredients.
SEASONAL SOUR – 7 
Ask your Server or Bartender for our current selection.
SCHILLING'S GRAPEFRUIT & CHILL, HARD CIDER – 8
Full of bright, tart citrus notes. 6.0% ABV
SCHILLING'S ROSE VACAY, HARD CIDER – 8
Dry, floral, bubbly, infused with apple juice and rose petals. 6.9% ABV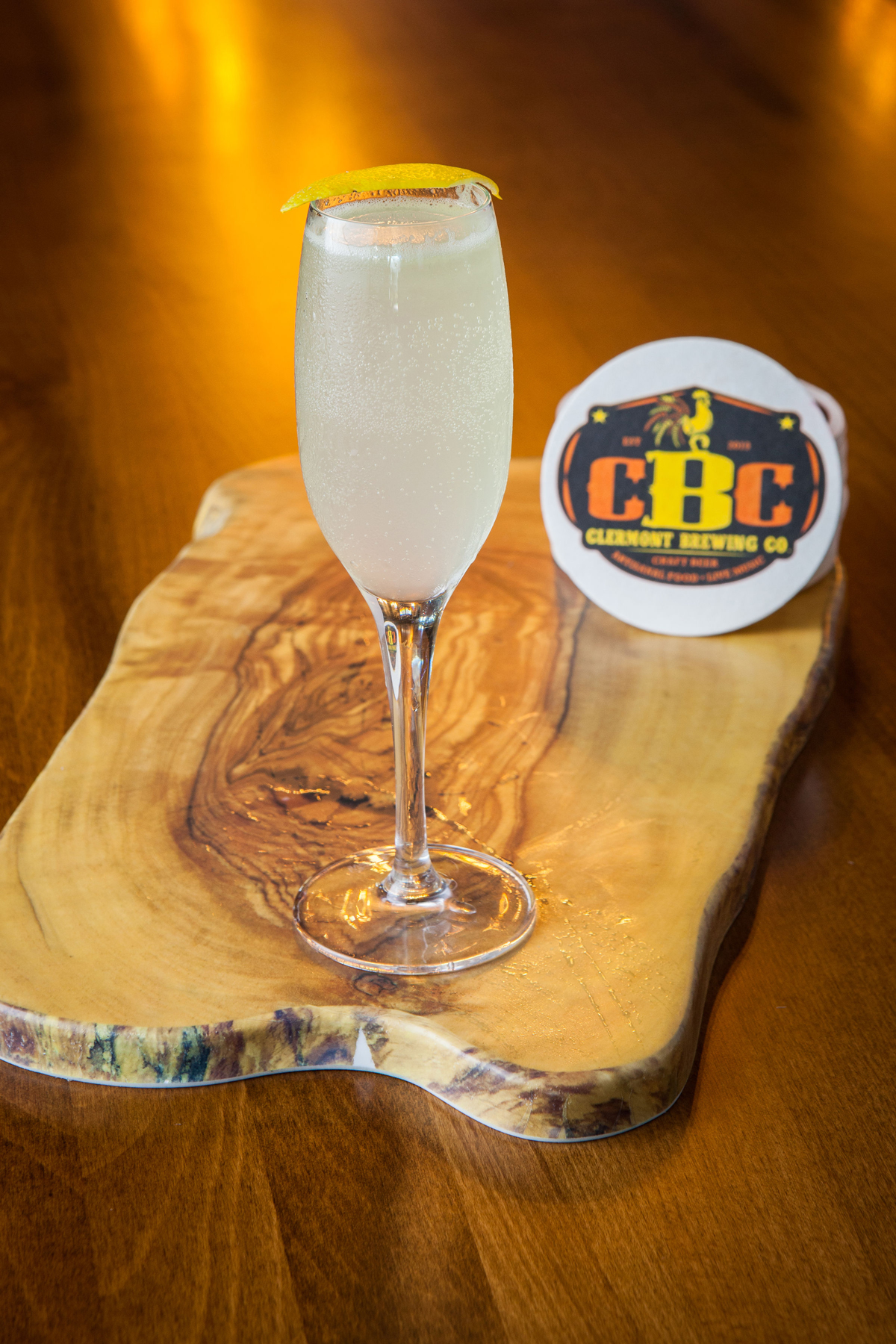 HOUSE WHITE – 6 (Glass)
Dona Sol Chardonnay. California. Fresh pear and apples with hints of melon and vanilla.
DUCKHORN CHARDONNAY – 16 (Glass) / 62 (Bottle)
California. Refreshing acidity with hints of peach and cream.
SQUEALING PIG SAUVIGNON BLANC – 11 (Glass) / 39 (Bottle)
New Zealand. Tropical fruit and fresh herbs on the nose, with green pineapple and passionfruit on the palate. Delicious minerality, bright and refreshing.
BEL VENTO PINOT GRIGIO – 7 (Glass) / 26 (Bottle)
Italy. Melon and pear, medium-bodied with fresh acidity.
VINTAGE OAKS MOSCATO – 7 (Glass) / 26 (Bottle)
California. Sweet and light with peach, melon and spice.
CHARLES de FERE JEAN LOUIS SPARKLING WHITE – 10 (SPLIT)
France. Fresh and fruity, light and crisp with a long finish.
JEIO PROSECCO BRUT – 11 (Glass) / 39 (Bottle)
Veneto, Italy. Extremely fine and lively, with a fresh nose of citrus for a fruit-forward, refreshing sip.
VEUVE de VERNAY SPARKLING ROSE – 20 (Bottle)
France. Strawberry, ginger and white peach.
HOUSE RED – 6 (Glass) 
Dona Sol Cabernet. California. Blackberry, cherry and mocha with hints of vanilla.
"CA" LOCATIONS BY DAVID PHINNEY RED BLEND – 12 (Glass) / 44 (Bottle)
California. Ripe and jammy tasting, rich in aroma with blueberry, milk chocolate and blackberry.
"E" LOCATIONS BY DAVID PHINNEY RED BLEND – 12 (Glass) / 44 (Bottle)
Spain. Bright, candied raspberry, cherry and pie spice.
UPPERCUT CABERNET SAUVIGNON – 10 (Glass) / 36 (Bottle)
California. Dark berries, espresso, spice and velvety finish.
ROBERT HALL CABERNET – 11 (Glass) / 42 (Bottle)
California. Dark fruit and berries, balanced with spice.
CHEMISTRY PINOT NOIR – 10 (Glass) / 38 (Bottle)
Willamette Valley, Oregon. Aromatics of plum and blueberry lead to a lush and juice palate with silky tannins for a structured finish.
BOGLE MERLOT – 7 (Glass) / 26 (Bottle)
California. Dark plum and summer cherry.
THE PALM "WHISPERING ANGEL" ROSE – 12 (Glass) / 26 (Bottle)
France. Blend of Grenache, Cinsault and Syrah
Coravin Wine Pours
Wine Enthusiasts may now enjoy a glass of wine without feeling the need to commit to a whole bottle.
PRISONER WINE CO "BLINDFOLD" WHITE BLEND – 17 (Glass) / 62 (Bottle)
Napa, California. Distinctive combination of 35% Chardonnay, 20% Roussanne, 20% Viognier and small quantities of Riesling, Semillon, Marsanne and Grenache Blanc. Sister version of Prisoner Red, this blind has zest, stunning vibrancy and a myriad of complex nuances.
JUSTIN CABERNET SAUVIGNON – 15 (Glass) / 55 (Bottle)
Paso Robles, California. Medium-bodied and powerful red wine with well-balanced nuances and tannins. Deep ruby color with black cherry and black current on the nose. Palate includes clear notes of toasted oak, vanilla, strawberry, raspberry and earth. Aged in small 25% American/French oak for 21-24 months.

Looking for a Craft Beer? We Have You Covered!