The Clermont Brewing Company was founded on the premise of being the fun neighborhood hang, where you can enjoy craft beers and cocktails, artisanal food, and great live entertainment!
Our food is designed to be shared and enjoyed with our broad assortment of beers, wine, and cocktails. Our Brewmaster is constantly brewing something new.  from Ales to Lagers, light to dark, hoppy to malty and everything in between. We also have exciting seasonal beers rotating on tap. Ask your server or call ahead for our current selections!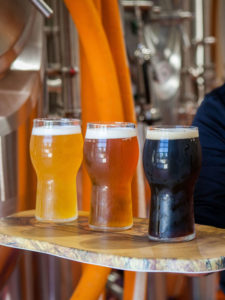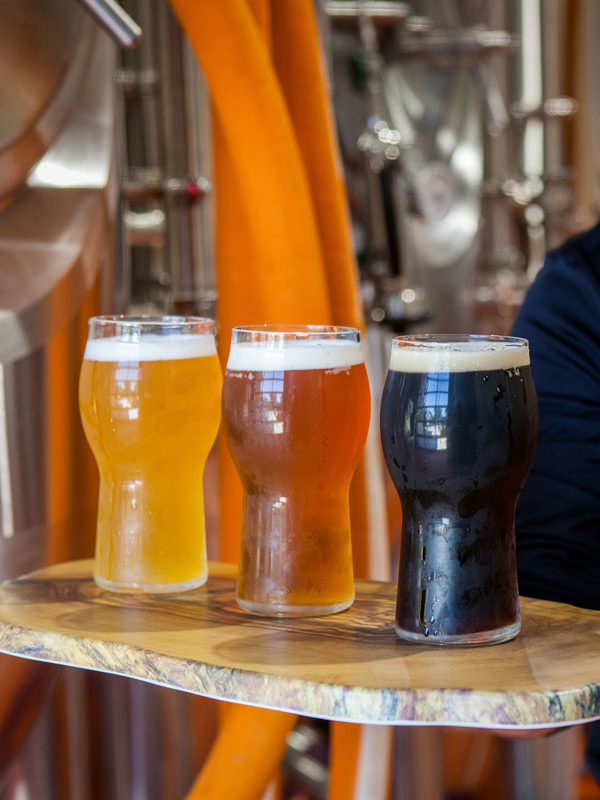 MALTY.  Our malty ales use roasted and caramelized malts. These malts impart similar flavors as our smoked meats on the menu.

CRISP.  Our lighter body beers are dry and refreshing. They go great with our salads and because they have more carbonation, they cleanse the palate!

 HOPS.  The bitterness of our hoppy beers can balance sweetness and spice.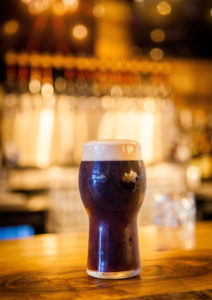 NEW BEER! – BUZZED LITE BEER – 5% ABV 
Refreshing and Light, an American lager with just a touch of honey. Pairs great with salads and pizza!
KOLSCH – 5.2% ABV 
Crisp, delicate and incredibly drinkable, German-style Kolsch is a refreshing ale-lager hybrid and has become a favored style by American craft brewers and beer lovers alike.
BAVARIAN STYLE HEFEWEIZEN – 5.5% ABV
Our tribute to a centuries old style of ale from Germany. This "hefe" has flavors of banana, clove and fruit; all coming from the unique yeast strain during fermentation. Very approachable and refreshing.
MEXICAN LAGER – 5.5% ABV
Boasts hints of Sweet Corn and Grainy Flavors with a very Smooth Mouth Feel and just a Touch of Bitterness. Clean and Chuggable, Perfect with a Slice of Lime.
AMERICAN PALE ALE – 5.7% ABV
Characterized by floral, fruity , citrusy, piney, resinous American hops, this American pale ale is a medium-bodied beer with small hints of caramel, and carries with it a toasted maltiness. American pale ale is one of the most food-friendly styles to enjoy.
TANGERINE HAZE IPA – 6.6%
Emphasizing hop aroma and flavor without tongue curling bitterness, this New England style IPA leans heavily on late addition and dry hopping techniques to deliver a big burst of citrus and tropical fruit juiciness.
WEST COAST IPA – 7.0% ABV
Aggressively hopped, this Complex Ale offers notes of Citrus, Pine, Floral and Tropical Fruit.
AMERICAN AMBER – 6.4%
This Amber ale showcases a medium malt character with low caramel character derived from the use of roasted crystal malts. Our American amber ale is characterized by American-variety hops, which lend notes of citrus, fruit and pine to balance the sweetness of the malt.
ROTATING DARK – ABV % VARIES
Explore the maltier side of life with our series of dark beers. Porters, Stouts, Belgian Darks, Schwarzbier and Bock. These ales & lagers will typically be dominated by toasty, coffee, cocoa, toffee and dark caramel characters. Ask your server about our current offering.
OKTOBERFEST – 6.2% ABV 
A refreshing, amber lager driven by a variety of German malts and a subtle hop spiciness.
BELGIAN WIT – 5.0% ABV
Belgian-style witbier is brewed using unmalted wheat, oats and malted barley. Witbiers are spiced with coriander and orange peel. A great warm weather, refreshing, sessionable ale.
BROWN ALE – 5.7% ABV
Our Brown ale boasts delicious roasted malt, caramel and chocolate-like characters in both flavor and aroma. CBC's American-style brown ale has medium hop flavor and aroma as well as an evident-but-low bitterness.
HOPPYWEIZEN – 6.7% ABV
Aggressive American Hops and Traditional Bavarian Yeast of Germany. Banana, Clove, Citrus, Pine and Tropical Fruit. Moderately Bitter and Medium Bodied.
MILK STOUT – 4.6% ABV
This flavorful, dark ale has a lot of character coming from chocolate malt, roasted barley, caramel malt and a good dose of lactose. The resulting beer is rich, slightly sweet and a great pair to most desserts.
AMERICAN PORTER – 6.5% ABV
Notes of Toffee, Caramel, Cocoa and Biscuit abound in this Robust Dark Ale. Finishes Dry and Crisp, making it a Great Choice for Any Occasion.
WHITE ROOSTER – 5.0% ABV 
A Refreshing Hard Seltzer with a Juicy Fruit Burst. Only 105 Calories and 2 Grams of Sugar per 12oz!
SEASONAL – ABV % VARIES
Always changing! Dark to light, hoppy to malty and everything in between. Ask your server about our current offering.
Eric Brown
Eric has been brewing beer professionally since 2005. He's been married since 2009 to Jamie, who he met through his first brewing job. After brewing in California and Colorado, Eric is very excited to be bringing his family and his brewing experience to Clermont.